Recipes
French Onion Soup
Hesslebach's Contribution:
The Hesslebach Dutch Oven, with its excellent heat distribution and retention properties, provides even cooking and complete heat control. This is ideal for sautéing onions to achieve a deep caramelization and for maintaining the low and steady temperatures needed for simmering French Onion Soup to perfection.
Ingredients
4 large yellow onions, thinly sliced
3 tablespoons unsalted butter
1 tablespoon olive oil
1 teaspoon sugar
1 teaspoon salt
2 tablespoons all-purpose flour
6 cups beef broth
1 cup dry white wine
2 bay leaves
4 sprigs fresh thyme
Salt and freshly ground black pepper, to taste
Baguette slices, toasted
2 cups Gruyère cheese, grated
RECIPE NOTES
Onion Caramelization: Key to great French onion soup is deeply caramelizing the onions.
Broth Choice: High quality beef broth for deep and rich flavor or a robust vegetable broth for a vegetarian version.
Final Thoughts: Take your time caramelizing your onions at medium to low heat. You will be rewarded with a rich and complex flavored soup.
INSTRUCTIONS
1. Caramelizing the Onions:
In a large pot, melt butter and olive oil together. Add sliced onions, sugar, and salt. Cook, stirring occasionally, until onions are deeply caramelized.
2. Building the Soup Base:
Sprinkle flour over the caramelized onions, stirring to coat. Cook for a few minutes to eliminate the raw flour taste.
Gradually add the beef broth and white wine, stirring continuously, ensuring a smooth, lump-free incorporation.
Add bay leaves and thyme sprigs. Bring to a boil, then reduce heat and simmer for 30 minutes to allow the flavors to meld.
3. Preparing the Bread:
Toast the baguette slices until they are crisp and golden.
4. Assembling and Broiling the Soup:
Remove the bay leaves and thyme from the soup.
Ladle the hot soup into ovenproof bowls. Place a toasted baguette slice on top of each bowl of soup.
Generously sprinkle grated Gruyère over the bread in each bowl.
Place the bowls under the broiler until the cheese is bubbly and golden brown.
5. Serving:
Serve the French Onion Soup hot, allowing the melted cheese and toasted bread to mix lovingly with the rich, onion-filled broth beneath.
You will also love these recipes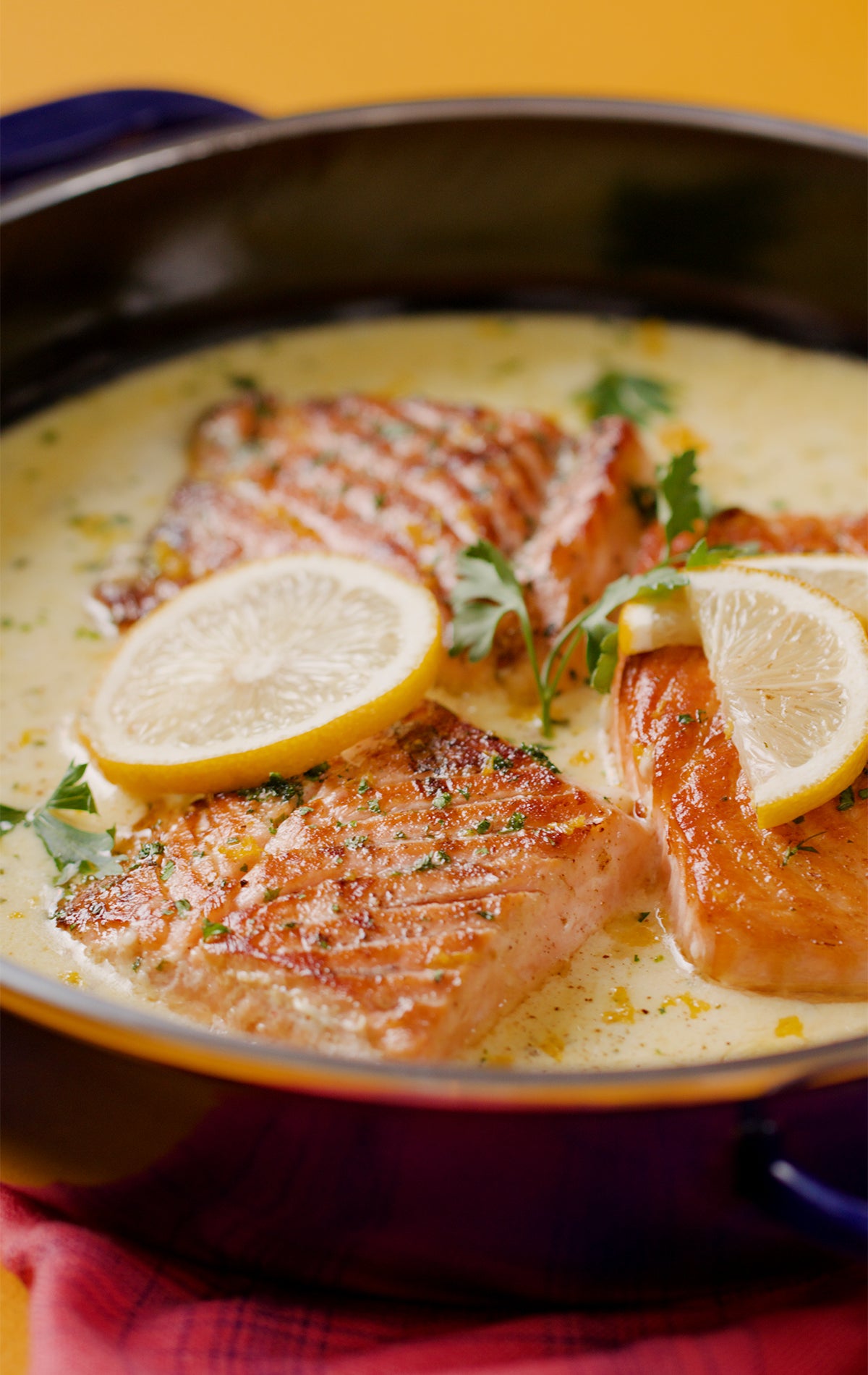 Salmon Steak
A tender, flavorful salmon steak with a crispy skin, cooked on Hesslebach grill pan.